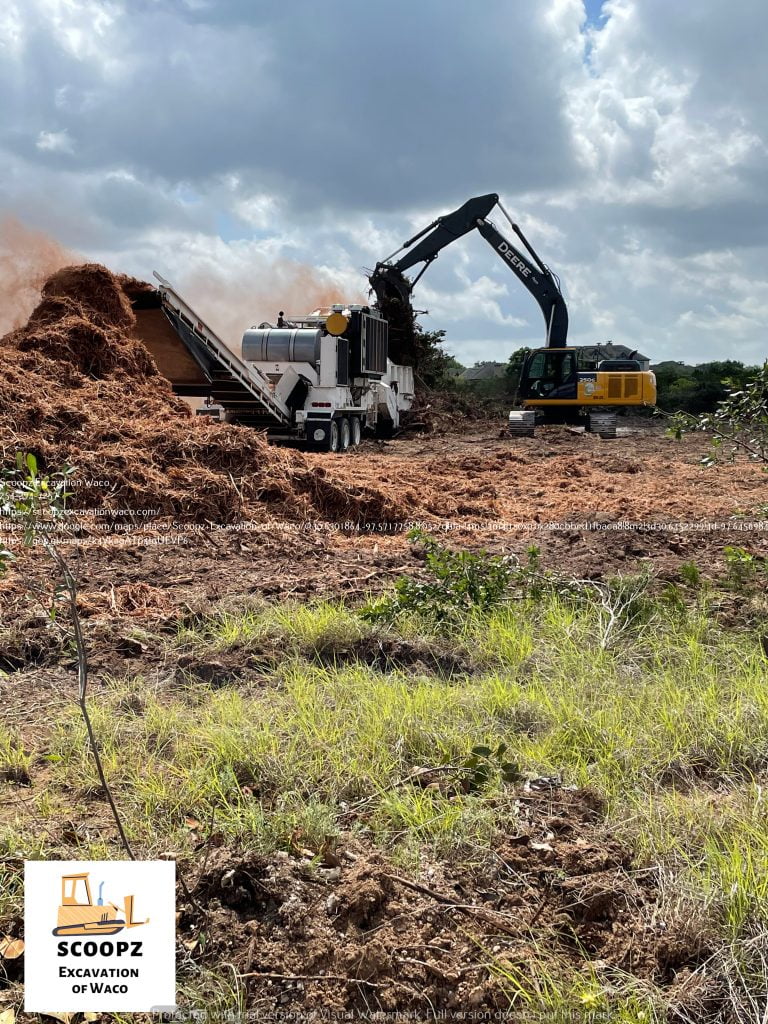 Excavation Contractor Killeen
Scoopz is the best excavation contractor Killeen for all your land projects. Call us for residential and business excavation tasks. Our services include: excavation, land clearing, site prep, and bulldozing. Furthermore, we construct retention ponds, lakes and roads. Hire us for cedar clearing, underbrush mulching, and pasture remediation. No matter the size of the job, we offer excellent service and extraordinary efficiency. Experience how our team perfectly performs every stage of building and construction.
We are the # 1 excavating specialist in Killeen, Texas. Our team has more than 20 years of experience. The amount of time we have collaborated as a team separates us from the rest. Discover that Scoopz finishes your land clearing and building tasks exceptionally and at competitive rates. In addition, we manage every task utilizing tactical preparation and understanding. Depending on your project requires, we personalize our excavation services and procedures to fit the construction or agricultural project requirements.
Safety and Top Quality Work is Our # 1 Priority
We strictly abide by all the greatest safety standards for the excavation industry. The highly experienced workers at Scoopz practice all present safety protocols. We understand the significance of making sure the worksite is absolutely safe. Not just for our own workers, however likewise for everything at the site. Witness first hand our commitment to high-grade excavating work and our dedication. Therefore, depend upon Scoopz Excavation of Killeen to provide quality work and a safe environment for every single task we do.
Excavation Services
Excavation is the physical procedure of moving earth, rock, or other products. This is finished with specialized tools and advanced equipment. In addition, it includes earthwork, land clearing, trenching, wall shafts, tunneling, and underground work. Likewise, excavation has a number of necessary functions. Exploration, environmental restoration, mining, and construction are some vital functions.
Building and construction is the most typical reason for excavation. Excavation is needed to produce building structures, ponds/lakes, and roads. Furthermore, trenching, dredging, digging, and site development are processes utilized in excavation.
Excavating procedures need substantial training, particular tools, and heavy machinery. Highly-skilled contractors are vital. There is no better crew than ours.
Land Clearing
Land clearing is the process of preparing a structure area for building by getting rid of all the debris on that particular area of land. When the land is overgrown with trees, the success of a construction project is in jeopardy.
Therefore, land clearing services eliminates trees, brush, and other greenery. A building pad or structure can be excavated and installed when the land is clear. When substantial leveling needs to be done, Land clearing likewise includes excavation to eliminate big trees or.
Land clearing can also consist of the taking apart of old structures to demolishing existing ones, and tidying up the mess. Whatever the case, the outcome is a cleared area that's all set for brand-new building to start.
Our total range of top excavating services consist of:
· Excavation Services–
We supply services for construction and farming site locations. Additionally, our team utilizes the best equipment and devices.
To start, the site is thoroughly examined. This ensures that the natural environment surrounding the site is preserved. Next, plans for the size and depth of the site are prepared. Our excavation specialists clearly mark the excavation site's borders. Now, the excavation work can start.
· Land Clearing–
Land clearing helps with the healthy growth of plants and trees. When a plot is thick with plant life, the probability of plants surviving on it decreases, so clearing the land offers more room for them to grow and provides the plants better access to water, nutrients, and sunshine.
· Site Prepping–
Our team undertakes many different earthmoving projects. We excel in: pond and lake building, de-silting road and track formation, and leveling stone to exact levels. Additionally, we are highly trained in landscaping, drainage, golf course building and construction, shed base excavation including, cut and fill and groundworks for footings and services.
· Lake and Pond Building–
Our team performs all elements of lake and pond construction. This included the surveying and finding of the best area and soil for your structure, site clearing, and grading, spillway building, and final grading.
We offer all dozers, bobcats, and manual clearing to construct your water structure. Additionally, Scoopz takes care of all phases of lake and pond building– we start from scratch and will construct high-capacity tanks for your property.
Cedar Clearing
· Cedar Clearing– We concentrate on small and big acreage and have the expert equipment to manage all kinds of land clearing, consisting of cedar clearing. It doesn't matter whether you desire cedar clearing or oak wilt elimination, mesquite grubbing– any tree services, or any right of way clearing, our specialist team can finish the job.
· Underbrush Mulching –
If you want your land clearing task to work for you, you can let us turn your underbrush and unusable land into mulch that can feed and protect the land.
While clearing the land for mulch, we can ensure that the ground below is left usable and unchanged as nourishing mulch offers nutrients for the soil. If you're hoping to get rid of overgrowth, brush, clear a space in the woody locations, perhaps clear a space for your view, or simply clean up your property, call us!
We focus on the safety, our consumer relations, and the prompt job conclusion with the highest level of performance and quality, no matter the task.
Additional Services
· Pasture Restoration– Scoopz restores your pasture to its previous splendor by using fertilizers, liming, weed control, and other approaches to guarantee you get optimal performance from your pastures.
Repair is specified as 'the complete destruction of and subsequent reestablishment of a pasture,' so we normally work on pastures that have actually been significantly overgrazed and when the majority of the turf is gone. Our group is highly-skilled with soiling screening and knows precisely how to assist restore your pasture for remarkable performance.
· Road Building– Scoopz Excavation of Killeen has the full-size equipment and the group to complete all roadway building tasks effectively. We are the company to call for clearing, grading, drain, and surfacing projects.
We construct and repair roads around your residential or commercial property, or farm land. Our work is completed in a prompt, extensive, cost-effective, and safe way. In addition, we are prompt, polite, and experts.